Payment Options
& Credit Terms
One of the advantages of working with the Richmond family is the ease of payment. We know running a business can be fast paced and often chaotic. In an effort to make your delivery a trouble-free and effortless transaction we offer a wide variety of payment methods. Sales tax will be charged on all orders, unless a current Sales Tax Certificate is on file.
Please review the options below to see which selection is the best choice for your business needs.
COD
If you chose to pay for your order at the time of delivery, our courteous drivers are well equipped and reliable. For your convenience, Richmond accepts cash, checks, and money orders. A NSF fee of $25 will be charged for each returned check.
CREDIT CARDS
Richmond accepts all major credit cards, including: Visa, Master Card, Discover, and American Express. We know that your time is valuable, and in an effort to make your transactions seamless and effortless, your credit card information may confidentially be retained on account for fast and easy future payments. Please fill out the Credit Card Authorization form if you would like your card information stored for future orders.

Credit Card Authorization Form
ACH PAYMENTS
To better serve our customers, Richmond offers an ACH/EFT program. This program will enable you to electronically transfer funds using your Financial Institution. Taking advantage of this program benefits you in the following ways:
Elimination of lost checks, and possible delivery delays.
Elimination of time spent depositing and preparing checks.
Elimination of possible check fraud.
In order to assure your payment is applied in the manner you desire, an electronic remittance needs to be submitted via email at the time of payment. If you wish to take advantage of this amazing program please fill out the ACH Form and submit it to your Financial Institution.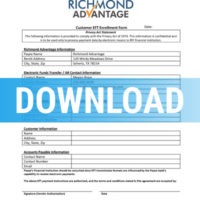 ACH Form
TERMS
Richmond Advantage offers a variety of terms to our customers. We regard customer credit as one of our most important products. The credit relationship is one of mutual value and trust. If you wish to become a part of Richmond's distinguished family of credit customers please review the guidelines below and submit a Credit Application. You will receive a response to your credit application from the Richmond Accounting Department within 10 business days.
All orders must be paid in accordance with the accounts pre-approved terms.
Past due orders may be subjected to a 3% finance charge.
Account privileges may be suspended if balances are not paid within the agreed upon terms.
Accounts that remain inactive 12 months or longer must submit a new credit application.